I'm ready to finish the saga today... A little sad, too, that's it's all going to be over after this. But it was a fun ride!
I didn't go overboard on my preparing, but I added a little glitz for that magical glamour...
I also wore my egg necklace that has a lightning bolt crack in it...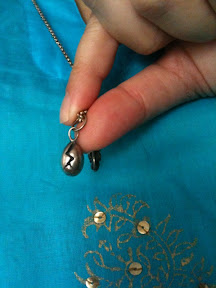 And my top has glittery gold sequins on it...
So, I'm feeling ready! A pack of tissues is in my purse & we're here an hour early! Good seats & yummy popcorn await! Expecto patronum!!
Posted using BlogPress from my iPhone